YOUR SPECIAL KIMBERLEY-KAKADU-KARIJINI- DELUXE – 13 DAY FLYING ADVENTURE!
See the beautiful KIMBERLEY – KAKADU – REMOTE LODGE AREAS on a 13 day scenic flight, with vehicles at all our stopping places. An excellent coverage of remote and rugged Australia with its stunning gorges and scenery, specialising in exclusive, remote adventure lodges – which you are unable to drive to.  You will experience the true heart of the majestic Kimberley – MUCH MORE THAN A COASTLINE!  EVERY DAY A NEW ADVENTURE!

ADELAIDE – COOBER PEDY – ALICE SPRINGS – WESTERN DESERT COMMUNITY – KAKADU – DAVIES SAFARI CAMP, ARNHEMLAND – TIWI ISLANDS – REMOTE BULLO RIVER STATION – KUNUNURRA – LAKE ARGYLE – REMOTE FARAWAY BAY – BUNGLES – GEIKIE GORGE – DERBY – THOUSAND ISLANDS – HORIZONTAL WATERFALL – YAMPI SOUND – WINDJANA GORGE – BROOME – PARABURDOO – TOM PRICE – KARIJINI N.P. ECO LODGE – KALGOORLIE – FORREST – HEAD OF THE BIGHT (Whales) – CEDUNA – ADELAIDE.
Please note that we give you a detailed itinerary, so that you can follow your flight. It is very important to understand that this could change at any time due to weather, bad roads, breakdown, etc. It is on this understanding that we outline a detailed itinerary. Please note that this must be read in conjunction with "Passenger Information Sheet".
DAY 1   ADELAIDE – ALICE SPRINGS
Depart General Aviation Terminal, Adelaide Airport, at 9.00am, flying over Spencer Gulf and Port Augusta, abeam Woomera to Coober Pedy for fuel. A small bus will take you on a town tour of Coober Pedy to see this vibrant cosmopolitan outback township – now a far cry from the early days of dugouts and mullock heaps. Fly over the extended moonscape of the opal-fields. Cross the mighty rivers of Central Australian legends – the Finke and Palmer. See the MacDonnell Ranges as we land in Alice Springs. Time to view the Todd Mall in Alice. Overnight in a pleasant motel central to the township.
DAY 2   ALICE SPRINGS – KAKADU –CROCODILE HOTEL
An early start for the airport. Fly over the rugged ranges of the Centre, to land at an aboriginal community, centre of the famous Dot Paintings. An opportunity to purchase a painting of the Warlpiri Aboriginal Desert People. This is produced under the management of their own appointed art curator, who will provide provenance and authentication. Paintings vary in cost from $80 to $8,000 and are prepared for travel for you. Across the Tanami Desert near Central Mt Stuart. We are soon over Kakadu with the beautiful Arnhem Land escarpment beside the aircraft. Land in the heart of Kakadu at Jabiru and transfer to the famous Crocodile Hotel for overnight stay. If time, a trip to Nourlangie with its famous rock painting sites.
DAY 3   KAKADU – DAVIES SAFARI CAMP – MT BORRADAILE  (DAVIES SAFARI CAMP)
An early breakfast and fly across Kakadu into the northern Arnhem Land escarpment. Land at a remote bush airstrip, transfer by open safari vehicles to the isolated deluxe Davidson's Arnhem Land Safari Lodge at Mt Borradaile. A very special day as only a few people are ever allowed in. The day is spent travelling to remote locations where you walk short distances into hidden rock escarpments. The Aboriginal rock art is outstanding. There is also an extended boat safari across the tropical lagoons festooned with lilies and ti-tree with hundreds of exotic birds wheeling above and around you. There are opportunities for distant views of large but shy salt water crocodiles. Overnight in self-contained deluxe cabins which are set on the edge of wilderness and are quite comfortable. It is a special day.
DAY 4    OFFSHORE TIWI ISLANDS – REMOTE KIMBERLEY BULLO RIVER VALLEY CATTLE STATION
Depart our luxury lodge early, flying north from Darwin to Bathurst Island. An air-conditioned bus and guide will meet us and we have arranged for a special welcome dance from members of the local indigenous people. Tea, coffee and damper follow. A quick visit to a local museum and Art store. Depart, flying past Darwin, into the impressive Victoria River Valley, to the spectacular Bullo River Station Homestead.This station was made famous by Sarah Henderson, with her book on a remote cattle station. An exciting adventure for you.
If you are able to, please google Bullo River Station where you will be able view the many adventures on offer.
At the time of paying your deposit you will be asked if you would like to take part in some of the following: Barramundi Fishing, Cattle Mustering, Horse Riding, viewing Aboriginal Rock Art, 4wd Safaris, Boating in a gorge. It may be doubtful that your particular request is available on the day, however we will make your request known to Bullo Station. Overnight in comfortable motel style rooms at Bullo.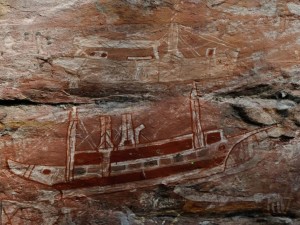 Excellent example of rarely seen ARNHEM LAND rock art at MT BORRADAILE.
DAY 5 BULLO RIVER – KUNUNURRA
We spend the morning on activities around Bullo River Station, before taking off with a short flight to Kununurra. Transfer to our own bus, for a drive out through the East Kimberley, to view the magnificent Lake Argyle. It is a huge undertaking and is a most impressive and picturesque sight. Drive down to a shady spot, high above the roaring Ord River, often where cheeky bower birds and butcher birds enjoy our visit. See the historic Lake Argyle Homestead of Durack fame, with its gardens, bird-life and native fauna. We view all aspects of the Lake, before returning to this friendly, well equipped town, for a view of the Kimberley Diamonds and any shopping. Transfer to our pleasant well-
grassed motel on the banks of Lake Kununurra.
A small flock of abundant waterbirds that teem to our remote Arnhem Land lagoons – Magpie Geese, 2 types of Whistling ducks, Brolgas, Jacanas, shown above.
DAY 6 KUNUNURRA – THE EXOTIC FARAWAY BAY
Fly North West from Kununurra, over the Cambridge Gulf, Wyndham to one of the most north westerly points of W.A.
Fly around the magnificent King George River Falls as the fresh waters tumble deep into the ocean below. Land at Faraway Bay airstrip with a 40 minute drive to our remote accommodation overlooking the exotic Timor Sea. This is one of Australia's more remote lodges and deserves the high reputation it has for safe adventure. In the afternoon, a choice of exploring the area, with its fresh water rock pools and hidden Aboriginal Rock Art. Self-contained cabins for our two night stay.
DAY 7 YOUR GREAT ADVENTURE BY BOAT THROUGH THE OCEAN TO THE HUGE KING GEORGE FALLS (a highlight)
Make certain that you have packed a long sleeve shirt, slacks, sun hat and sunscreen for our open sea adventure.
Departing from the lodge area, we travel out into the Timor Sea around the coast to enter the long, impressive cliff-bound sound that makes up the ocean section of King George Sound. A spectacular boat ride with cliffs high above us on both sides, right up to the base of these lofty waterfalls that tumble from the plateau above us. A stunning journey with side trips of adventure along the way. Perhaps a freshly caught ocean fish for our dinner at Faraway Bay. Apart from Bullo River Station, this is a once-in-a-lifetime remote adventure today.
DAY 8 FARAWAY BAY – KUNUNURRA – BUNGLE BUNGLES – GEIKIE GORGE – DERBY
An early departure from Faraway Bay to refuel at Kununurra so that we get the good morning light and calm flying conditions for our air adventure ahead of us. We then take off over the mighty Lake Argyle and fly across to the giant Argyle Diamond Mine for a quick overview. Then it is on to one of the highlights of our trip – flying around the Bungle Bungles with the beauty of early morning light. It is an impressive sight. Depart the Bungles over the inaccessible gorges of the King Leopold Range before landing at remote Fitzroy Crossing. A tour of this interesting town, including a closer look at the giant Fitzroy River. Then a short drive out for a cruise on the Fitzroy River at Geikie Gorge. This gorge has smooth, coloured limestone walls high above you, quite different from anywhere else. A short flight to Derby, an old and historic town of the North West. Overnight in a comfortable and relaxing motel.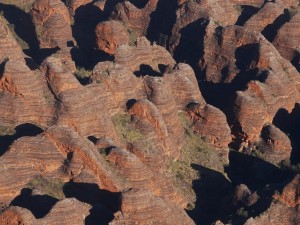 A comprehensive early morning flight, in your own personal aircraft, over the Bungle Bungle – one of Australia's natural wonders.
DAY 9   DERBY – THOUSAND ISLANDS – WINDJANA GORGE – BROOME
An early departure flying across King Sound, the mouth of the mighty Fitzroy River. Fly over the "Thousand Islands" Archipelago. This is Australia's most outstanding coastal feature. Rocky pinnacles, submerged mountains, pearl farms, barramundi boats, Yampi Sound, Cockatoo Island and the amazing Horizontal Waterfall (if the tide is right). It is a very special flight and perhaps one of the flying highlights of any air safari in Australia. We then land at a remote red dirt airstrip in the Kimberley. Our bus is waiting for a short transfer to the mouth of Windjana Gorge. A walk down into the gorge itself, with its really interesting environment. There are a lot of tropical specials to see and talk about – fossils, Archer fish, baby barramundi, freshwater crocodiles and the sheer majesty of the gorge itself. Fly into Broome – overnight in our luxury motel overlooking the huge Roebuck Bay (two nights).
DAY 10   BEAUTIFUL BROOME
This is one of the prettiest, most tropical towns in the north. We spend a very relaxed morning visiting the many interesting features of Broome, including the deep-water port, Gantheaume Point, Anastasia's Pool, the Dinosaur footprints, the interesting Chinese cemetery, and Cable Beach. Lunch is at your own expense today and we can drop you in Chinatown for lunch, (or return to Motel for same) and a relaxed afternoon for you to look at the beautiful pearl shops and catch up on any shopping. Overnight in our luxury accommodation on the shore line of Roebuck Bay.
DAY 11   BROOME – PARABURDOO – PILBARAS – KARIJINI GORGE
Fly out of Broome along the Ninety Mile Beach, then cross country, flying near such legendary places as Marble Bar, Wittenoom, Fortescue River, to Paraburdoo. This is the land of huge iron ore mines. Transfer to our own small mini-bus. On our one hour drive north, we sometimes  see one of the giant ore trains – the longest in the world.
Drive out into the spectacularly coloured Pilbaras, often with a landscape of wild flowers if the rains have been recent.
The Pilbaras are a deep blue in the distance with bright red rocks inn the foreground. Enter the Karijini National Park. Travel on to Knox Gorge and other very impressive gorges and views in between.
It is very difficult to describe how magnificent these gorges are – however, in this case you may be assured that with life-long adventure travel and writing of them, these are the most spectacular in Australia. Return to our deluxe Tented Camp above the Joffre Falls.
DAY 12   KARIJINI GORGES – KALGOORLIE
This morning, drive a short distance to Oxer Lookout which is perhaps the most spectacular gorge view in Australia.
Dropping down100 metres and 100 metres across, there are three huge gorges converging at this one point. Return to
Paraburdoo Airport to fly over the huge mines exporting millions of tonnes of iron ore from the mountains around
Paraburdoo. In the distance we may see Mt Augustus, the largest rock in the world, eclipsing Ayers Rock in size.
Fly over the vast flat goldfields country before landing at Kalgoorlie. A tour of the twin towns of Boulder and Kalgoorlie.
There are large mine heaps and winches throughout.
Detour to visit the "Big Pit"- amongst the deepest mines in the world. Transfer to our deluxe motel in the heart of Kalgoorlie – allowing you time for a walk into the nearby town centre with its beautiful, restored buildings.
DAY 13 KALGOORLIE – FORREST – HEAD OF THE BIGHT – CEDUNA – ADELAIDE
Across the huge expanse of the Nullarbor, passing over Rawlinna and Loongana, before landing to refuel at Forrest. Over the giant cliffs of the Nullarbor to Head of the Bight, where in seasonal times we may see whales. Land at Ceduna to refuel before crossing Eyre Peninsula for Adelaide, landing by 5.30 p.m.
2018 DEPARTURE: Thursday, June 7
FARE: $12,990 (twin share), $14,490 (single)
All inclusive – all meals & motel accommodation, all flights as stated in the itinerary, all tours, transfers, cruises, entry fees and gratuities. Please Note: We have not "padded" your fare, so your fare does not cover extra meals or accommodation in the event of flooding or delays of any type.
Recommended Tours