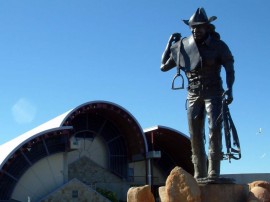 We have been flying in this area for 32 years and are the original Lake Eyre operation. Many others, including airlines, have tried to copy our operation, but have not been able to offer the same experience.
LAKE EYRE 2 DAY ACCOMM. FLIGHT – FLINDERS RANGES – WILPENA POUND – BURKE AND WILLS' DIG TREE, QUEENSLAND – BURKE'S GRAVE, S.A. – OUR BUS TOUR OF COOPER CREEK – OVERNIGHT INNAMINCKA – COONGIE LAKES – BIRDSVILLE – GOYDER LAGOON – WHOLE OF LAKE EYRE NORTH AND SOUTH – LEIGH CREEK – ADELAIDE.  A COMPETENT AND COMPLETE COVER.
TOUR CODE: LE/INN/2
MAKE CERTAIN THAT YOU FLY WITH THE BEST- WE STARTED LAKE EYRE FLIGHTS 38 YEARS AGO – AND IF YOU WILL FORGIVE US, WE BELIEVE THAT WE ARE THE BEST BY A VERY LONG OUTBACK MILE.
LAKE EYRE IS A CENTRAL FOCUS POINT OF THIS FLIGHT, HOWEVER  IT IS A SMALL PART OF A HUGELY VARIED AND VERY RICH FLIGHT OVER THIS OUTBACK PART OF AUSTRALIA.  YOUR FLIGHT WILL COVER A LARGE PART OF AUSTRALIA, ITS OUTBACK HISTORY AND INTERESTING LEGENDS.                                    
Normally, heavy rains in Tropical Australia create restoring floods which flow hundreds of kilometres down through country such as Dajarra, Boulia, Winton and Longreach.  When these floods reach the Birdsville-Lake Eyre-Cooper Creek basin country they fill the channels, waterholes, billabongs, claypans and lakes that create the surface of this country.  Some years, these are heavy floods with widespread results.  Other years as in 2012, these floods are more of a refreshing and top-up flow, which are necessary to maintain the life systems of this area.  Whether a heavy flood or not, this area has a huge amount of experiences to offer you.
This normal water flow still gives life to  fish, crustaceans, etc. which attract some breeding pelicans and waterbirds, such as banded stilts, cormorants, spoonbills, etc.  The annual rains which have already been heavy give life to the land and create a host of dependent animal, bird and plant life.   It is amazing to fly over thousands of square kilometres of vast desert country, then find the country refreshed from this recent heavy rainfall
Dick Lang's Bush Pilots was the first air safari company to operate to Lake Eyre in 1974 and every year since.
Your flight is the most comprehensive and interesting trip of the Outback of South Australia and Queensland.  You have the history, legend, beauty and relaxation of our Centre, all in an action-packed two day safari.  (Dick and Helen Lang were part owners of the Innamincka Pub during the historic, huge floods of 1974).
What better way to do this than with pilots who have lived and worked in the Outback for many years – pilots who know the people, the stories and the land.
DAY 1       Depart from the General Aviation Terminal, Adelaide Airport, at 8.30 a.m.  (Please be ready for check-in at 8.00 a.m.)  Fly north, passing Wilpena Pound to land at
Leigh Creek to refuel.  Over the rugged and isolated Gammon Ranges, Mount McKinlay, Arkaroola, Mount Painter, Mount Fitton Talc Mines and Mount Hopeless.  View Lake Frome and Lake Callabonna, once the home of the giant diprodotons – but now a world-famous fossil site.  See Lake Blanche which can be filled by the Strzelecki.  Lunch in the aircraft as we fly over the Strzelecki Desert to touch down on a small bush strip on the banks of Coopers Creek at Nappamerrie.
We walk 400 metres to view the famous Dig Tree (PLEASE NOTE THAT HEAVY RAINS RENDER THIS AIRSTRIP UNUSABLE).  Listen to the saga of the struggling explorers, Burke and Wills.  Return to our aircraft for a short flight back into SA, to land at Innamincka, where our own special bus will take us down to the banks of  beautiful Cooper Creek.  Visit lonely Burke's Grave in a beautiful grove of gum and coolibah trees on the bank of the Cooper.  An alternative drive through very interesting outback landscape to lonely King's Marker of B&W fame, on the edge of remote Cooper Creek.  Overnight motel, Innamincka. 
DAY 2      Depart Innamincka, flying across the beautiful Coongie Lake system – a huge inland lake system in the heart of a desert – wetlands, quite rare throughout the world.  Fly over the edge of Sturt's Stony Desert, then over typical country of the Simpson – claypans, flats and sand dunes.  Fly into Queensland to land at Birdsville for a visit to the Birdsville Working Museum and possibly a drink in the Birdsville Pub.  Depart Birdsville, flying over the spectacular Channel Country of Goyder's Lagoon on the Diamantina River.  Fly along the edge of the Simpson Desert and the Tirari Desert, following the mighty Warburton River on its path to Lake Eyre.  We see the various rivers which can empty into Lake Eyre as we descend for a flight down the length of this giant lake. 
Fly past the mouth of Madigan Gulf, where Donald Campbell broke the world land speed record in 1966 in the Bluebird.  Eight years later Dick Lang established a world record by ski-ing across Lake Eyre eight metres above this former racetrack.  Because of very heavy tropical rainfall in outback Queensland, you may see the surface of Lake Eyre partly covered with water – or the incredible beauty of its glistening surface.  Fly across Lake Eyre South, past lake Torrens, before descending to land at Leigh Creek again to refuel.  Fly south to Port Augusta, then over Port Pirie and St Vincent Gulf, before landing back at Adelaide Airport by 5 p.m.
DEPARTS:
Call now for departure dates
FARE:   All inclusive – all air travel as stated, all ground travel as stated, all meals        and accommodation.  

Two people travelling together and sharing accommodation – $ 1,999 per person.  Person travelling alone – $2,099.
Please note that your fare covers the number of days stated and does not cover any extra allowance for meals and accommodation due to delays caused by any other situations.
Recommended Tours