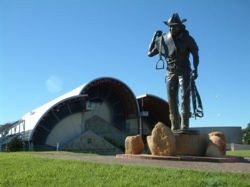 We have been operating in this area for nearly 50 years, watching the area and the history develop.  Australian History and a lifetime of Outback knowledge go with it.
3 DAY ACCOMMODATED FLIGHT – From $2,690. 
ADELAIDE – FLINDERS RANGES – COOPERS CREEK – LONGREACH – BIRDSVILLE – LAKE EYRE
INC. STOCKMAN'S HALL OF FAME AND QANTAS MUSEUM.
DAY 1 
Depart General Aviation Terminal, Adelaide Airport, at 8.30 a.m. (Please be ready for check-in by 8.00 a.m.)  Fly north to Flinders Ranges, Hawker, past Wilpena Pound landing at Leigh Creek to refuel.  Take off over the Nepabunna Aboriginal Community, over the rugged and isolated Gammon Ranges, Mount McKinlay, Arkaroola, Mount Painter, Mount Fitton Talc Mines and Mount Hopeless.  View Lake Frome and Lake Callabonna, once the home of the giant diprotodons – but now a world-famous fossil site.  See Lake Blanche which can be filled by the Strzelecki Creek.  Lunch in the air as we fly over the Strzelecki Desert to touch down on a small bush strip in Queensland.  Walk 400 metres to the famous Burke and Wills Dig Tree.  Hear of the interesting details which created a legend from a string of small errors.  Dick Lang has had various stories of this saga published and is able to give you an authorative insight.  Fly to Innamincka.  Our special bus takes us to Cooper Creek to see the beautiful lagoons and bird life. See Burke's Grave Site. O/N Innamincka. Please note that on occasions this tour is run in reverse due to accommodation in the bush.
DAY 2
Fly across the spectacular Channel country of S.W. Queensland.  The Channel Country covers an estimated 3,000 sq kms of actual river channels and is a most impressive sight.  If cloud free, we are able to see what few others can – the mighty Cooper Creek joining the Thompson, to start the Channel country system. On to Longreach, a tidy and industrious town built on artesian water, sheep and cattle. Cross to the very interesting Qantas Museum alongside the airport, viewing the giant Boeings on display.  Later, transfer to the famous "Stockman's Hall of Fame".  It is an enthralling and very interesting visit. O/N Longreach.
DAY 3
Across the giant Diamantina flood plains of South Western Queensland to land at Birdsville. An interesting walk to the artesian bore and town centre. Over the massive Simpson Desert with its parallel sand dunes seen so convincingly from the air. See the beautiful Goyder Lagoon and S.A. Channel country.  Across Eyre Creek and the remote, rarely viewed Kallakoopah inside the Simpson Desert.  Fly down the length of giant Lake Eyre. Past Madigan Gulf, where Donald Campbell broke the world land speed record. You may not see Lake Eyre covered with water – but instead the beauty of its glistening surface. Across Lake Eyre South  to land Leigh Creek to refuel.  Past Wilpena Pound, before landing Adelaide Airport at approximately 5 p.m.
2017 DEPARTURES:   May 5, 25, June 15, 22, 30, July 20, August 24, Sept  30, Oct 6.
FARE:  Two people travelling together and sharing accommodation – $2,690 per person
Person travelling alone – $2,840
This fare covers all travel, all accommodation and all meals, entry fees.

PLEASE NOTE: ALL TOUR FARES INCLUDE AIRPORT TAXES, LANDING FEES, AIR NAVIGATION CHARGES, FUEL LEVIES, REMOTE FUEL LEVIES AND GST IN THE PRICE.
Recommended Tours