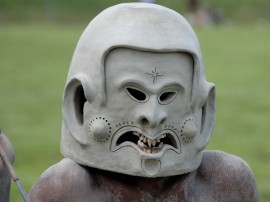 ADELAIDE – BIRDSVILLE – NORMANTON – DARU – FLY RIVER VILLAGE – PT MORESBY – START OF THE KOKODA TRACK – EAST NEW BRITAIN ISLANDS – RABAUL –  MADANG – GOROKA – MT HAGEN – HORN ISLAND – MT ISA – ADELAIDE.
Please note that we give you a detailed itinerary, so that you can follow your flight. It is very important for you to understand that this could change at any time due to weather, bad roads, breakdown, etc. It is on this understanding that we outline a detailed itinerary.
ALL ITINERARIES ARE SUBJECT TO CHANGE BECAUSE OF WEATHER OR OPERATIONAL REQUIREMENTS.
PLEASE REFER TO WABAG – KUMUL TOUR FOR DETAILS OF THIS ITINERARY.  THIS TOUR VISITS THE GOROKA SHOW AND NOT THE WABAG SHOW
DAY 2 NORMANTON – HORN ISLAND – DARU – FLY RIVER VILLAGE – PORT MORESBY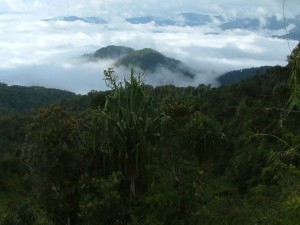 Depart Normanton over the coastline of the Gulf of Carpentaria. Fly over the mining township of Weipa, across the Jardine River to land at Horn Island, clearing Customs and Immigration. Note that you pay for your own personal Departure Tax from Australia. Across Torres Strait to PNG Customs at Daru. Across the giant Fly River estuary, over emerald green jungle to land at a remote village. Please note that transport and communication are difficult. If all goes well, we are able to reach the Waligi lagoon for a dugout canoe ride to a nearby island – home of the great Gogodala canoe-makers. This is a truly outstanding and memorable afternoon. Leave these friendly, appreciative people, flying high over the Gulf of Papua, passing giant mountains in the distant cloud, to land at Pt Moresby. Here we are picked up by Dik Knight, an old friend and proprietor of the beautiful Loloata Island Resort. Transfer by boat to Loloata.
A Goroka Tribesman
DAY 3 LOLOATA
Early morning snorkelling is available. Hire equipment from the Island. An excellent tour around Port Moresby to view the original coastal village, the port, the business centre and the magnificent Parliament House. If conditions are right, and there is no rain, travel up to the start of the Kokoda Track. We also visit the beautifully maintained WWII Bomona War Cemetery, where thousands of young Australian men are interred. Overnight Loloata.
DAY 4 PT MORESBY – MADANG
Around the very high Finisterre Ranges to land at Madang, called by many "the most beautiful harbour in the world". A tour of this coastal town, visit the market, then lunch at a beautiful coastal resort. After lunch visit a Japanese WWII airstrip and view the wrecks of several long-ruined aircraft. Overnight resort with swaying palm trees and the Bismarck Sea crashing on the coral at your door.
DAY 5 MADANG – GOROKA
DAY 6 GOROKA
The famous Goroka Sing Sing! Up to nine hundred tribal men and women from surrounding mountain villages large distances away, travel into Goroka to compete against each other in a dazzling display of colour, Bird of Paradise headdresses, pounding drums and ululations. It is a world-class and heady experience. Overnight in the beautiful "Bird of Paradise Hotel".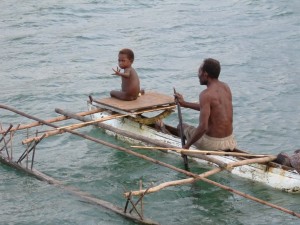 DAY 7 GOROKA – MT HAGEN
We need to wait at the airstrip at Goroka for the cloud to rise. Fly along the famous Wahgi Valley to Mt Hagen. Drive through this larger township and up into the mountains to our beautiful family-owned motel. This is built of conventionally, but of traditional, bush materials. Each room is self-contained. In the grounds there are a large number of spectacular Birds of Paradise. It is a highlight of our journey in PNG.
DAY 8 MT HAGEN – HORN ISLAND – MT ISA
Leave early, travelling down to Mt Hagen to clear Customs (Note: You pay for your own personal departure tax). Fly out of the ring of mountains around Mt Hagen, across Torres Strait to Horn Island. Clear Customs, flying down to Normanton to refuel and on to Mt Isa for overnight.
DAY 12  MT ISA – BIRDSVILLE – LEIGH CREEK – ADELAIDE
From Mt Isa, past Dajarra, Boulia in the distance, over the Georgina River and Bedourie to the Birdsville Pub for lunch. Along the Birdsville Track to Leigh Creek to refuel, back to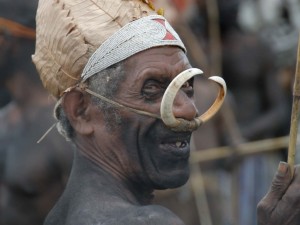 Adelaide by 5 pm.
DEPARTURES: 
Please call for departure dates
FARE 2017:
$10,990 per person (two people travelling together and sharing accommodation).
$11,990 person travelling on own.
Your fully inclusive fare includes all meals, all accommodation and transport. Does not include visa fees, departure taxes, or show entry.
Recommended Tours