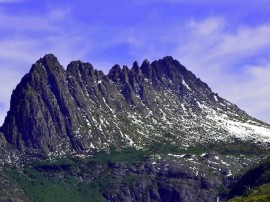 ADELAIDE – KING ISLAND – CHEESE FACTORY – KELP FACTORY – WYNYARD – CRADLE MOUNTAIN – DOVE LAKE – CORINNA – TARKINE WILDERNESS – NEAR ARTHUR RIVER – TALL TREES – WYNYARD – STRAHAN (CRUISE OPTION) – ADELAIDE.
The remote North West of Tasmania is not normally accessible to fly/land travellers. However, we have organised an adventure trip through the heart of these remote areas, to take in the very best highlights of inaccessible N.W. Tasmania.
PLEASE NOTE THAT LATE NEWS HAS INDICATED LAND SLIDES IN THE TARKINE WITH A NEED TO REVIEW OUR ITINERARY AS SHOWN BELOW.  PLEASE NOTE THAT THE ABT RAILWAY AT STRAHAN HAS CLOSED, DUE TO MAINTENANCE PROBLEMS  WITH NO ESTIMATES AVAILABLE ABOUT ITS RE-OPENING.
THURSDAY Depart Adelaide Airport at 7.30 a.m., flying over the South East of South Australia and over Warrnambool. We cross Bass Strait and fly into magic King Island. A memorable visit to the pristine cheese factory with its show-stopping award cheeses (purchase some for friends – they'll be impressed). A drive around the main settlement, along the rugged shoreline to hear about the amazing kelp industry – you will be amazed at how versatile and ubiquitous this product is. Fly on to Wynyard. If there is little cloud cover, you may be able to see past Smithton and down into the heart of the Tarkine Wilderness. At Wynyard we transfer to our small bus before setting out down the Murchison Highway. We see typical Tasmanian hills farming country before this gives way to forested areas. Turn off into the beautiful and iconic Cradle Mountain and Dove Lake areas. This remote, outstanding location is the icon of Tasmanian Highlights. A possibility to view and study the Tasmanian Devil near Cradle Mountain. We overnight right here in the Cradle Mountain National Park in excellent accommodation, surrounded by the stunning views of this wilderness area.  We are a world away from our start this morning with the great experiences of today's adventures.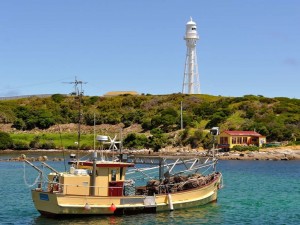 FRIDAY Along the Murchison Highway, marvelling at the amount of lake and reservoir water in the mountains, to Tullah, for the start of our wilderness adventure. We follow a remote bitumen road alongside a large lake which we follow for some miles, stopping to view a remarkable hydro-electric power station and its massive fall. Along a dirt track to the dark and serene Pieman River. Cross by cable punt to the restored gold mining town of Corinna. Start through forests before climbing hills to view the large rolling button-grass vistas of the Tarkine Wilderness interior. We pass through Savage River township, then into Waratah with its large waterfall in the centre of town.  Travelling north, we may see the unusual warning signs and road markings set up to protect road-crossing Tasmanian Devils. Eventually, we finish at Tall Timbers to overnight in a large, modern well-appointed motel.
 SATURDAY An easy departure from the motel and drive past Smithton once more into the fringes of the Tarkine, to view Tassie's tallest tree, near a small waterfall.  Drive through to Wynyard and after take-off, if there are no clouds or strong winds, over the spectacular mountain scenery of the World Heritage Area of Cradle Mountain. Land at Strahan where you may wish to spend time in the picturesque port area or walk out to a well marked trail into a beautiful rainforest park with examples of many of Tasmania's famous trees on the edge of the town area. Overnight Strahan in a marvellous class motel with high views across the harbour and port. An excellent, outstanding buffet dinner.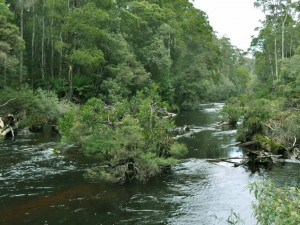 SUNDAY An early morning stroll from your motel around this pristine, beautiful part of Strahan. After breakfast, an optional morning departure on the famous Gordon River/'Franklin River cruise (Approx.$94.50, inc. buffet lunch). Across Macquarie Harbour, scene of Hell's Gate and Sarah Island, setting for the old novel "For the Term of His Natural Life" by Marcus Clarke. Lunch on board the large cruising boat, while looking at the natural Tasmanian beauty around you. As an alternative, either an interesting walk around this small harbour town OR a walk into the splendid and signed rainforest on the edge of the town – your own lunch. From Strahan, transport out to the airport. Fly along the rugged west coast with its rocky inlets sheltering fishing villages and small communities. Across Bass Strait and possibly into Warrnambool for fuel, returning to Adelaide by 5.30 pm.
FARE: Normally $2,770 per person (twin share), $2,990 (single).
DEPARTURES:  2017 – Nov 17 Dec 8; 2018 TBA

Your fare includes all meals as stated, all accommodation, entry fees and transport, as outlined in the itinerary.
Recommended Tours